Online Community
AIRS Webinar - "Coping Ugly" - Dispelling the Myth of the "One True Path" to Resilience
4.71 (24 votes)
Register

Canadian - Free!
Commercial Associate/Consultant Associate - Free!
Iowa211 - Free!
Gold - Free!
Individual - Free!
Military - Free!
Non-Member - $5
Platinum - Free!
Silver - Free!
Subscriber - Free!
211Brevard - Free!
211Broward - Free!
211MRCPL - Free!
211PBTC - Free!
Atlanta211 - Free!
AUW 211 - Free!
bc211 - Free!
Cleveland211 - Free!
Connect MatSu - Free!
DRCOG - Free!
DupageCo - Free!
Epilepsy Foundation - Free!
GTCUW - Free!
HFUW211 - Free!
Inland SoCal 211 - Free!
Massachusetts Rehabilitation Commission - Free!
Michigan 211 - Free!
NC211 - Free!
Ontario 211 - Free!
UnitedWaySWPA - Free!
UWCalifornia - Free!
UWMidlands211 - Free!
VA 211 - Free!
Washington211 - Free!
Washington DSHS - Free!
Wyoming211 - Free!
(45 minute session)
There are (what feels like) countless articles, videos and even websites that tell you they have a mythical and magical list of things you can do or practice that will make you resilient (I'll wait here a minute while you google it to verify my claim). Although those lists can be helpful in their own way, they can also be misleading by making you think that if you have checked all the boxes on the list...you are indeed resilient. Which is actually not true.
George Bonano, professor of clinical psychology at Columbia University, has learned through his intense studies of grief that there is no one way to cope that is best, and that resilience is an outcome...not an aspect of character or even a skill you acquire.
Using Bonano's research (with a healthy mix in of the Multi System Model of Resilience from some smart folks at Ryers University), we will explore more about how eating a bag of chips can be considered adaptive coping and how talking to friends about the problem can be maladaptive coping. We will further outline and explore a 3X3 model (see takeaways below for additional details) of recognizing and even cultivating resources in your life that can lead you to a resilient outcome every time... on the path and in the way that feels best to you.
Please make sure you have your phone handy, as well as a paper and pen for drawing out the model for your reference and to add personal notes and reflection. I also highly recommend having a snack on hand you enjoy :)
Key Takeaways:
Understand what makes a coping mechanism adaptive or maladaptive (spoiler...it's not what you think)
Outline the 3 mindsets that are linked to resilient outcomes and that allow you to focus on the task at hand in a constructive way
Outline "The Sequence" - 3 sets of questions that help you determine what you need to do for yourself in a specific situation to get closer to a resilient outcome
Outline the 3 systems/layers of resilience (internal, coping and pursuits, external) and brainstorm a list of what resources you already have access to in those systems and which ones you could cultivate
Use the MSMR tool/app to scientifically and empirically evaluate the potential for your own resilient outcomes based on what resources in each system you have access to now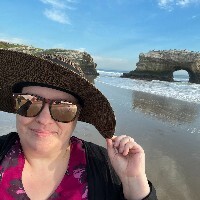 Chiara Cameron-Wood
AIRS Interim Executive Director
AIRS, Lehi, Utah
Chiara Cameron-Wood is graduated with an Associates Degree in Business, Bachelors in Psychology, and a Masters in Human Services with a specialization in Social and Community Resources. She has served her community in several nonprofit roles, including volunteer coordination with United Way of Northwest Ohio and Hannah's Socks, before moving to Utah and becoming part of the 211 program there. She started as a lead and quickly became the Program Director and then the Managing Director of 211 Utah. She held that position for 5 years before becoming a part of AIRS and now serves as the Executive Director. Chiara lives in Lehi, Utah, with her husband Jeff, near their 7 children and the stunning natural beauty of the Rocky Mountains and national forests. She enjoys traveling, writing, meditation, baking shows, musicals, shallow high school comedies, singing, and playing the piano whenever she can.
$i++ ?>
Key:
Complete
Next
Failed
Available
Locked
CLICK HERE TO VIEW -"Coping Ugly" - Dispelling the Myth of the "One True Path" to Resilience
Recorded 03/04/2022
Recorded 03/04/2022
(45 minute session) - There are (what feels like) countless articles, videos and even websites that tell you they have a mythical and magical list of things you can do or practice that will make you resilient (I'll wait here a minute while you google it to verify my claim). Although those lists can be helpful in their own way, they can also be misleading by making you think that if you have checked all the boxes on the list...you are indeed resilient. Which is actually not true. George Bonano, professor of clinical psychology at Columbia University, has learned through his intense studies of grief that there is no one way to cope that is best, and that resilience is an outcome...not an aspect of character or even a skill you acquire. Using Bonano's research (with a healthy mix in of the Multi System Model of Resilience from some smart folks at Ryers University), we will explore more about how eating a bag of chips can be considered adaptive coping and how talking to friends about the problem can be maladaptive coping. We will further outline and explore a 3X3 model (see takeaways below for additional details) of recognizing and even cultivating resources in your life that can lead you to a resilient outcome every time... on the path and in the way that feels best to you. Please make sure you have your phone handy, as well as a paper and pen for drawing out the model for your reference and to add personal notes and reflection. I also highly recommend having a snack on hand you enjoy :)
8 Questions | 3 attempts | 6/8 points to pass
8 Questions | 3 attempts | 6/8 points to pass
Certificate of Completion
Live Viewing: 1.00 Hour(s) of Professional Development credit and certificate available
Live Viewing: 1.00 Hour(s) of Professional Development credit and certificate available
| Access Date | Quiz Result | Score | Actions |
| --- | --- | --- | --- |