Online Community
AIRS Webinar - What You Really Need To Know About HIPAA and I&R
5 (3 votes)
Recorded On: 10/01/2020
Register

Commercial Associate/Consultant Associate - Free!
Canadian - Free!
Wyoming211 - Free!
Military - Free!
Silver - Free!
Individual - Free!
Gold - Free!
Non-Member - $5
Platinum - Free!
Subscriber - Free!
211Brevard - Free!
211Broward - Free!
211MRCPL - Free!
211PBTC - Free!
Atlanta211 - Free!
Autism Speaks - Free!
AUW 211 - Free!
bc211 - Free!
Cleveland211 - Free!
Connect MatSu - Free!
DRCOG - Free!
DupageCo - Free!
Epilepsy Foundation - Free!
GTCUW - Free!
HFUW211 - Free!
Inland SoCal 211 - Free!
ITRC - Free!
Massachusetts Rehabilitation Commission - Free!
NC211 - Free!
Ontario 211 - Free!
UnitedWaySWPA - Free!
UWCalifornia - Free!
UWMidlands211 - Free!
VA 211 - Free!
Washington211 - Free!
Washington DSHS - Free!
Cyber attackers didn't "stay home" during the COVID-19 public health emergency; they've continued to be up to no good. The bad guys keep attacking businesses of all types, and their methods are evolving. Join our expert, Iliana L. Peters, to discuss the HIPAA and data privacy and security issues keeping us all up at night! We will review:
Application of the HIPAA Rules to Covered Entities and their Business Associate vendors, and enforcement related to data security issues;
Preparing for and responding to different types of cyber-attacks, including by leveraging data security tools like certifications and frameworks; and
Best practices for health care entities of all types with regard to data governance.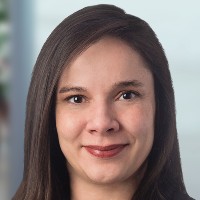 Iliana Peters
Polsinelli, Washington DC
Iliana L. Peters believes good data privacy and security is fundamental to ensuring patients' trust in the health care system, and to helping health care clients succeed in an ever-changing landscape of threats to data security. She is recognized by the health care industry as a
preeminent thinker and speaker on data privacy and security, particularly with regard to HIPAA, the HITECH Act, the 21st Century Cures Act, the Genetic Information Nondiscrimination Act (GINA), the Privacy Act, and emerging cyber threats to health data.
For over a decade, she both developed health information privacy and security policy, including on emerging technologies and cyber threats, for the Department of Health and Human Services, and enforced HIPAA regulations through spearheading multi-million dollar settlement agreements and civil money penalties pursuant to HIPAA. Iliana also focused on training individuals in both the private and public sector, including compliance investigators, auditors, and State Attorneys General, on HIPAA regulations and policy, and on good data privacy and security practices.
As a CISSP, Iliana works hard to bridge the gap between legal requirements for the security of health data and security industry best practices, so that clients can better understand data security issues and jargon. She is excited to bring her extensive experience drafting, implementing, and enforcing health privacy and security regulations and guidance to a practice that focuses on helping clients develop and implement good data privacy and security practices to avoid risk, and helping clients prepare for and recover from emerging cyber threats.
$i++ ?>
Key:
Complete
Next
Failed
Available
Locked
10/01/2020 at 2:00 PM (EDT) | 60 minutes
10/01/2020 at 2:00 PM (EDT) | 60 minutes
7 Questions | 5 attempts | 7/9 points to pass
7 Questions | 5 attempts | 7/9 points to pass
Certificate of Completion
Live Viewing: 1.00 Hour(s) of Professional Development credit and certificate available
Live Viewing: 1.00 Hour(s) of Professional Development credit and certificate available
| Access Date | Quiz Result | Score | Actions |
| --- | --- | --- | --- |