Online Community
AIRS Conference Call For Proposals - Track Sessions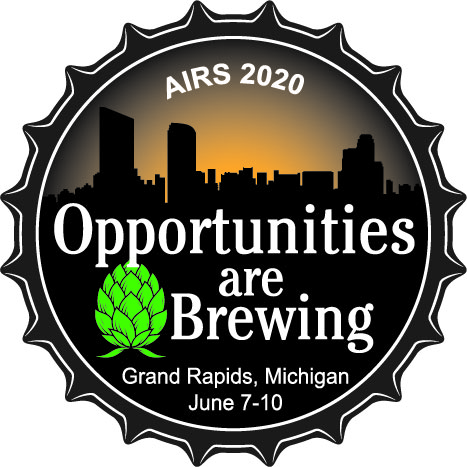 AIRS is currently accepting proposals for all sessions in ALL tracks for the #AIRS2020 Conference in Grand Rapids, Michigan
Deadline February 21st, 2020
HERE IS THE LINK to the application
Use the document below to draft content and collaborate with co-presenters. Final proposals must be submitted via the online application form above.
Downloadable Word Document Worksheet

---
Want to discuss a workshop idea before submitting? Please contact the program track manager:

Note that we are not able to accept all proposals because we invariably receive more proposals than available timeslots.
Note also that I&R vendors are welcome to submit proposals but the presentations must be vendor-neutral and aimed at sharing knowledge about a topic other than their product/service. The evaluation comments for vendors who veer off that road are always very direct!
---
Selection of Presenters and Additional Information
Deadline for submissions is February 21st, 2020.
Final selections will be based upon the information provided and the training needs of conference attendees. We are particularly looking for "high level" presentations that will meet the needs of more experienced I&R practitioners.

Preference is also given to presentations with collaborators across multiple organizations.
Selected presenters will be informed no later than March 5th, 2020.
Here are some of the basic expectations:
If you plan to attend the conference as well as present, you must register for the conference if you will be attending other workshops and events. We are sorry that there are no special rates for presenters.
All presenters will be asked to provide an electronic copy of their PowerPoint presentation or handouts as applicable. These will be made available for free to conference attendees immediately after the event and to all AIRS members, a few months after the event.
Please note that if you are selected to present at the 2020 AIRS Annual Conference, you will receive a Presenters Contract. This contract will specify when your workshop is scheduled and outline the responsibilities of presenters and of AIRS.
---
If you have questions, please contact Chiara Cameron-Wood at chiara@airs.org

The AIRS Board and membership appreciate your interest in promoting I&R training.
Why Should I Present?
"The best part of presenting was being able to present with colleagues who I had never met in person. Being there with them and the audience was such a great opportunity to create connections. Plus, I really enjoyed talking to people after the session and seeing how what we shared benefited them. It was very rewarding."
- Mariam Schrage, #AIRS2019 Presenter
Public speaking is a great way of building personal development on many levels, since improving communication skills is helpful in almost every area of life. Whether your goal is to engage in political debate, make a career as a motivational speaker or gain confidence in front of an audience, public speaking can help you meet your goal.
We've listed the top benefits of public speaking, which will encourage you to get out of your comfort zone and sign up to speak at a few events in the future.
Career advancement
Boost confidence
Critical thinking
Personal development
Improve communication skills
Personal satisfaction
Expand your professional network
Make new social connections
Learn to persuade
Build leadership skills
Learn performance skills
Develop your vocabulary and fluency
No fear of impromptu speaking
Helps you drive change
Be a better listener