Online Community
211 Steering Council Webinar - 211 and 988 Working Together
Register

Canadian - Free!
Commercial Associate/Consultant Associate - Free!
Pathways - Free!
Gold - Free!
Individual - Free!
Military - Free!
Non-Member - $5
Platinum - Free!
Silver - Free!
Subscriber - Free!
United Way of Northeast Florida - Free!
211Brevard - Free!
211Broward - Free!
211MRCPL - Free!
211PBTC - Free!
Arkansas211 - Free!
Atlanta211 - Free!
AUW 211 - Free!
bc211 - Free!
Chicago211 - Free!
Cleveland211 - Free!
Connect MatSu - Free!
DRCOG - Free!
DupageCo - Free!
Epilepsy Foundation - Free!
GTCUW - Free!
HFUW211 - Free!
Horizon Healthcare - Free!
Inland SoCal 211 - Free!
Iowa211 - Free!
Massachusetts Rehabilitation Commission - Free!
Michigan 211 - Free!
NC211 - Free!
Ontario 211 - Free!
UnitedWaySWPA - Free!
UWCalifornia - Free!
UWMidlands211 - Free!
VA 211 - Free!
Washington211 - Free!
Washington DSHS - Free!
Wyoming211 - Free!
Tim Sullivan
Director
Washington 2-1-1 Network, Seattle, Washington
Tim Sullivan is the statewide director for Washington 211, the lead organization that administers the 211 information and referral system for the State of Washington. Tim received his Bachelors of Science degree from Central Washington University in 1992 and shortly after started his career in social services working for the Yakima County Gang Prevention Intervention Coalition as a program manager. In 1995, Tim was hired by the United Way of Central Washington, where he worked as the Community Impact Director for 15 years.
In 2004, Tim became involved in the issue of homelessness and helped establish the Homeless Network of Yakima County, a coalition that developed and implemented Yakima County's first 10 Year Plan to End Homelessness. In 2006, Tim was contracted by Yakima County to develop the County's first housing and homeless programs and later became a Senior Manager for Yakima County Human Services. In August 2016, Tim became the Statewide Director for Washington 211.
Tim is a member of the 2-1-1 National Steering Committee and chairs the SDOH Taskforce. Tim is also a founding board member of Justice Housing Yakima, a non-profit organization that is dedicated to building permanent housing for chronically homeless individuals using tiny homes. Tim makes his home in Yakima, WA with his wife Michelle of 27 years and his two children, Jessica age 22 and Ian age 13.
$i++ ?>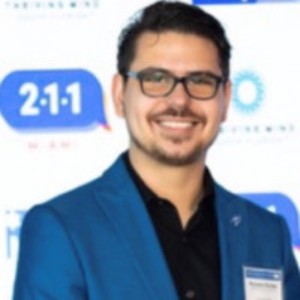 Richard Shutes
Jewish Community Service 211 Miami, Miami, Florida
Richard Shutes is currently the Director of Helpline Services at 211 Miami. Richard has previously filled roles as a frontline volunteer I&R counselor, Manager, and Training Manager. He holds a master's degree in clinical mental health counseling and has vast experience in the world of social media and Instagram. Richard is passionate about Instagram and how he's learned how to combine his love for 211 and social services along with the power of social media to engage the community. In his spare time, Richard enjoys bacon and creating art.
$i++ ?>
Key:
Complete
Next
Failed
Available
Locked
211 Steering Council Webinar - 988 and 211 Working Together
Select the "View On-Demand Recording" button to begin. | 45 minutes
Select the "View On-Demand Recording" button to begin. | 45 minutes